Happy 2 weeks of life Evelyn Grace!
In 2 weeks you have made some huge accomplishments, most notably:
~ Breathing on your own
~ Peeing and Pooping on your own
~ Eating without a feeding tube, mama's milk from a bottle
~ No longer needing oxygen
~ Successfully coming out of your sedation
~ losing almost half your birth weight (just over 9lbs at birth, just above 5.5 lbs now)
~ No more fluid draining from your chest
~ DOCTORS REMOVED YOUR CHEST TUBES COMPLETELY!!!
~ You were moved from the "intense" NICU room to the "more stable" NICU room
~ You are only being monitored at this point, you are not receiving any help!
And my personal favorite:
~ Doing well enough that mommy got to hold you today for the first time ever!!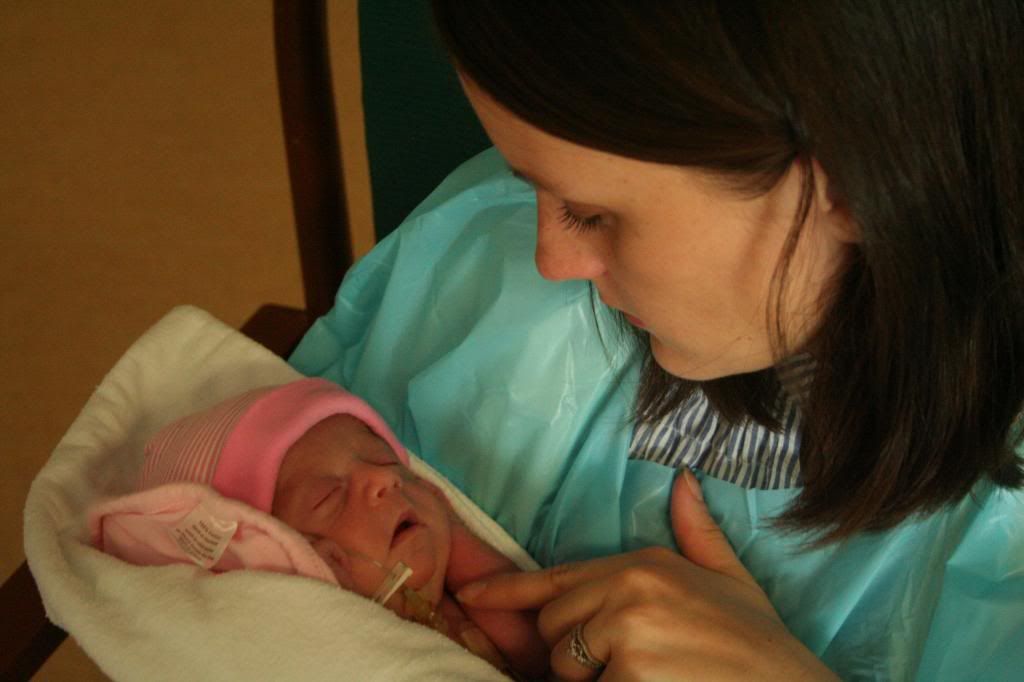 ****
The doctors have started talking about a timeline for sending Evelyn Grace home...one of them wants to send her home soon and the other wants to keep her a little longer for observation. I'm torn because we would LOVE to have her home but I'm also quite frankly TERRIFIED to bring her home! It is hard because they have never been able to give us what exactly was wrong with her - they just know that the fluid has stopped and she seems stable....it seems hard to know if she is "healed" if we don't know what was wrong in the first place but it seems that might be how it goes with Hydrops cases - even many autopsies come back inconclusive. Our prayer requests at this point would be continued wisdom for the doctors, the fluid to stay away, continued health for Evelyn Grace and peace for us when the time comes to bring her home. We need to continue toremember and trust that the Lord will care for her and has a plan for her; that He has numbered her days and He will watch over them.